Gutenberg and Elementor are quite common terms that you may have come across in the WordPress world. While designing a WordPress site, the thought of which page builder or site editor to use is something that may have crossed your mind. A page builder that comes top in the list is Elementor. The Gutenberg editor is also something that is likely to grab your attention.
Both the Gutenberg editor and Elementor page builder are quite great and selecting which of them to use is something that can be confusing especially for WordPress beginners.
In this guide, we will look into each of these, how to use them and some of the key comparisons between them based on specific metrics.
Table Of Contents
Key Comparisons Between Gutenberg and Elementor
Gutenberg
What Is Gutenberg
It is the default WordPress editor, also known as the block editor. It was introduced in 2018, as an inclusion in WordPress 5.0.
The editor uses blocks that can be used to add content to a post/page and can be styled to a users' preference.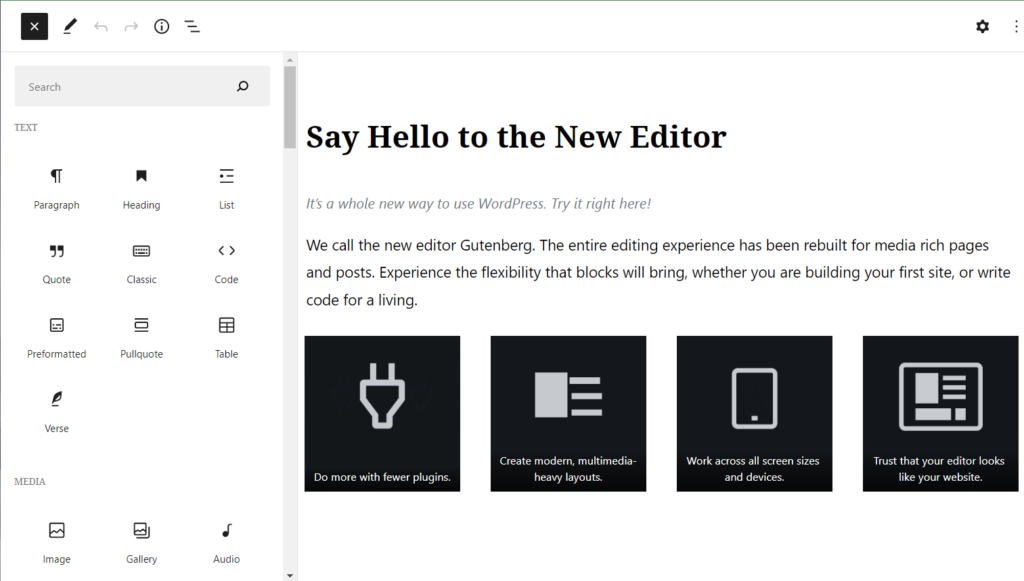 When introduced, the block editor replaced the classic editor. Gutenberg is easy to use especially for novice users compared to the classic editor. You no longer need to add HTML and CSS to the editor in order to add and style your content.
It is however still in its growth phase and it is expected to offer even more features as time goes by as it is still continuously developed and improvements added.
Gutenberg Features
Gutenberg has a number of exiting features in place. Here, we will look into five of these features within the editor.
Blocks
It contains inbuilt blocks that enable you to add any kind of content such as media and text within your post or page.
These blocks can be added to a post or page by clicking on the block inserter within it.

Within the editor, you can add each block separately, hence providing you with much more control of each block settings.
There are also quite a number of blocks available. The wide selection of blocks available enables you to add different sets of content into your website. You can also create custom blocks to use within your website.
Reusable blocks
It provides an option to have reusable blocks in place. Reusable blocks are a group of blocks that can be used repetitively within your site content.
Reusable blocks turn out to be quite saving. This is because you don't need to recreate the sections to use in different sections within your website.
Below is a sample screenshot illustration on how you can create a reusable block from a particular block: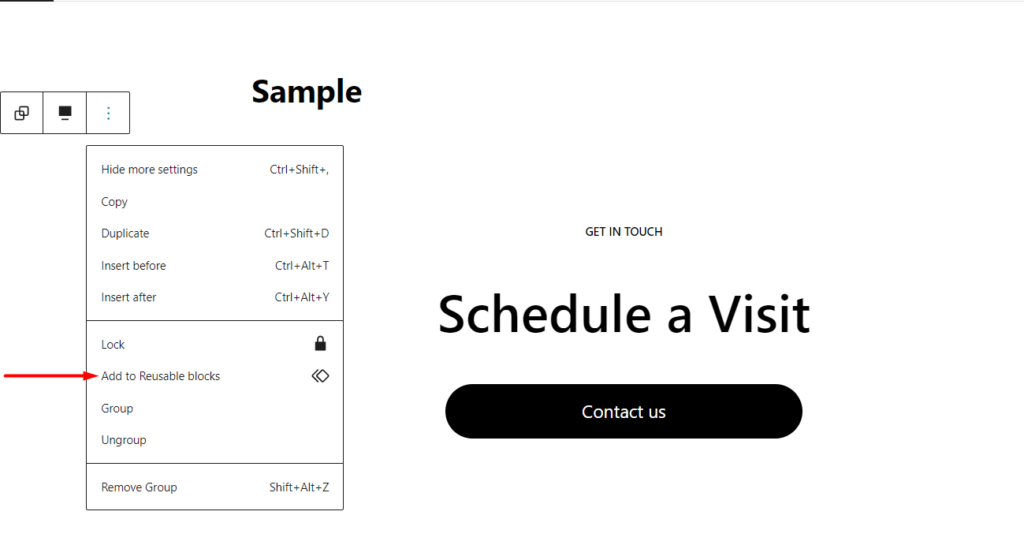 Upon clicking on the "Add to Reusable blocks" link, you will have popup where you will need to add the reusable block name and save your changes.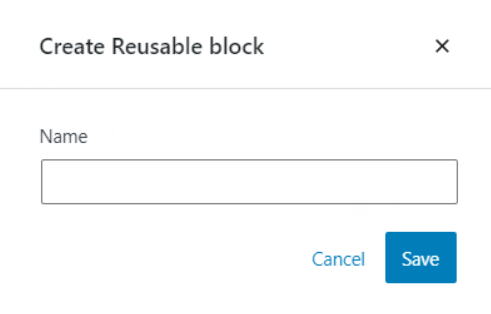 (WYSIWYG) Editing
It introduces a WYSIWYG (What You See Is What You Get) content editor. This enables you to edit content within your post or pages and be in a position to preview its display prior to publishing it.
This is a great feature as you no longer need to save your changes in order to preview the display of the page or post. Initially, this is something that was not provided by the previous WordPress editor.
Adjustable font aspects
The editor makes it quite easy for you to also easily adjust various font aspects of your content such as font size and appearance. This enables you to personalize the display of content within your site.
Any font changes that you make to your content are immediately visible within the editor.
Drag and Drop Functionality
The editor enables you to drag and drop blocks within your pages or posts. This enables you to create simplified layouts of your preference, much more faster.
Elementor
What Is Elementor
Elementor is a page builder that enables you to to design highly customizable layouts within your WordPress website.
It is one of the most popular page builders. Its free version has over 5 million installations as it currently stands.
While using it, you don't need any coding experience to design your website. It has quite a number of widgets in place. These enable you to easily add different features within your website.
The page builder can also be used for a variety of website types such as blogs, ecommerce sites, listing sites and many more. There is no limitation to any specific content type.
Elementor Features
Elementor has a wide range of features that make it quite ideal for website developers and novice WordPress users.
Some of these features include:
Responsiveness
The builder enables you to design your website for every device (mobile, laptop and desktop). This helps in ensuring that you achieve a pixel perfect responsive design of your site that works as expected in every device.
This responsiveness is achieved with the help of breakpoints that kick in based on the device screen size. You can also create custom breakpoints with the help of Elementor.
Live Editing and Preview Experience
With Elementor, you are in a position to carry out edits within your page or post and be in a position to preview it as the edits are carried out. You don't need to for example save a page and then preview it in order to have a view of changes done.
Drag and Drop Functionality
It offers a drag and drop functionality when designing your website. You just need to drag widgets to the canvas within your post or page.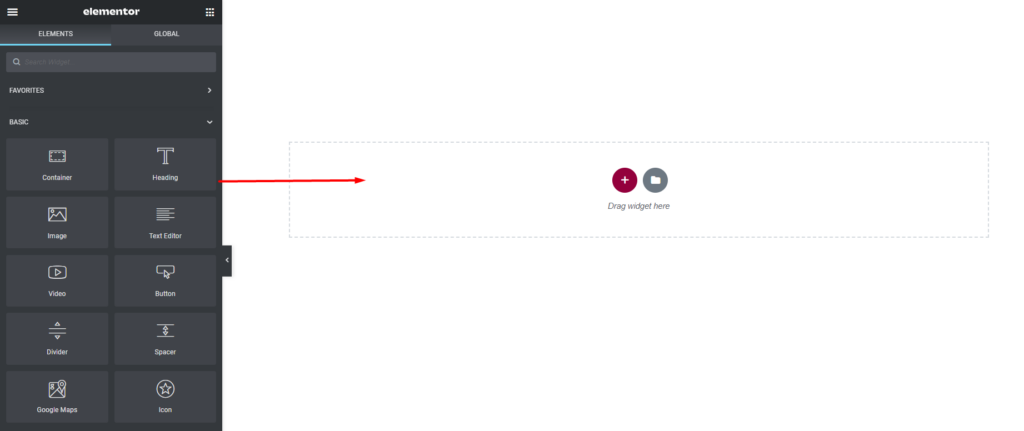 This is a feature that makes it a great page builder to consider, especially for novice users since no coding knowledge is required.
Ready-Made Templates
It provides over 300 ready made templates that you can use in designing your website.
You can use these templates to create websites of any type of industry. Once added to your page, you can further customize the templates to your preference.
Multiple Widgets
It incorporates a diverse number of widgets that can be used to add various types of content. There are also third-party plugins that easily integrate with the builder to provide extra widgets that you can use within your website.
Key Comparisons Between Gutenberg and Elementor
Both Elementor and Gutenberg have a number of similarities as seen in their features outlined above. However, they do actually outperform each other in different aspects. Below are some of these comparisons.
Responsiveness
Both Gutenberg and Elementor can be used to create responsive websites.
With Elementor you are in a position to control the display of widgets across different device screens. For example you can hide a button in mobile devices and have it rendered only in desktop and tablet devices. You can also add extra styling to various elements across different device screens. This functionality provides extra flexibility when designing your site.
In Gutenberg however, by default you are not in a position to adjust blocks display based on device screens, unless you are using a theme or plugin that adds this feature.
Ease of Use and Understanding
While using Gutenberg, you can easily add blocks within your site by just clicking on the block inserter and selecting your desired block. A disadvantage of this editor is that its not quite inituitive and users might have to learn how to properly design layouts using blocks.
As for Elementor, users just need to drag and drop their desired widget to the page and modify their contents to render their desired content. This is a much easier approach especially for new WordPress users.
Performance
Gutenberg achieves better performance scores as compared to Elementor.
A page designed with Gutenberg is likely to load much more faster compared to a page designed with Elementor.
Below is a sample performance comparison between a page built with Elementor and one built with Gutenberg:
Page using Elementor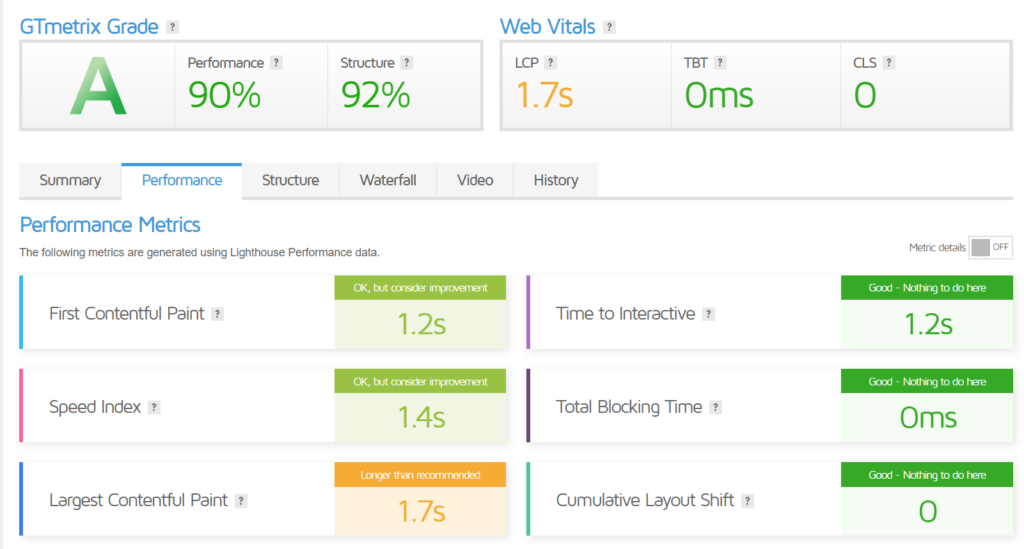 Page Using Gutenberg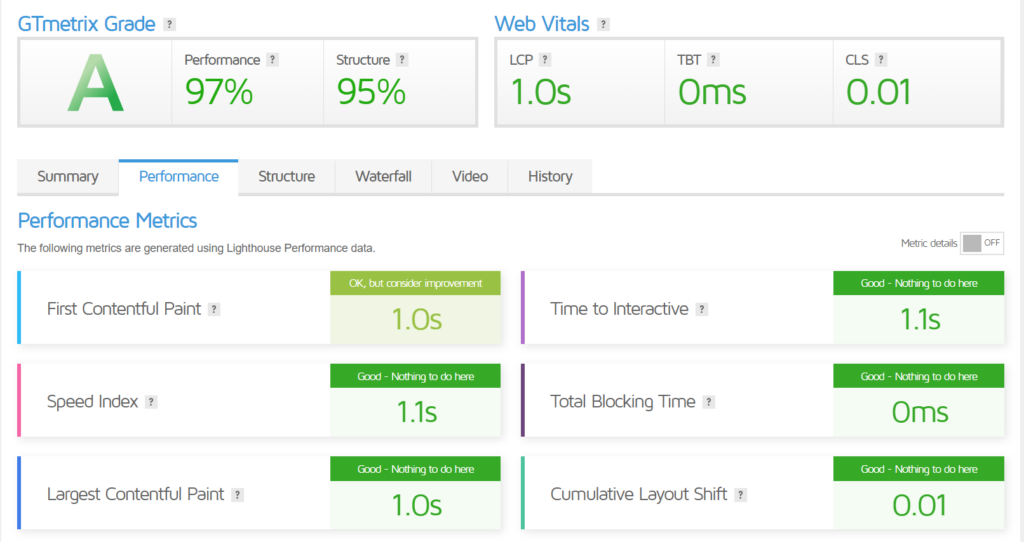 Elementor has more customization features and data hence one of the contributing reasons to the lower performance scores as compared to Gutenberg. Gutenberg is also integrated into WordPress itself, unlike Elementor which you need to first install the Elementor plugin in order to be in a position to design your site with it.
Drag and Drop
Both Gutenberg and Elementor provide a drag and drop functionality when designing your website.
With Elementor, you can drag and drop widgets inside other widgets, hence enabling you to create complex layouts. In Gutenberg however, this functionality is however limiting since you can only drag and drop blocks to where you want to have them rendered for example in columns, but not really drag and drop blocks to other blocks. For example, you cannot drag a quote block to be rendered over an image. It will instead be rendered as a separate block on top of the image. This makes it a bit challenging to build complex layouts within your website.
Pricing
Since Gutenberg is integrated into WordPress itself, it is free of charge.
Elementor on the other hand is available both as a free plugin and a pro plugin. The free plugin is a bit limiting especially in terms of the readily available widgets and templates. To enjoy the vast number of widgets and templates, you will be forced to purchase the pro plugin from the available plans.
There are four different plans available. These include: Essential, Expert, Studio and Agency. The pricing variations on each of these plans highly depend on the number of websites that the pro plugin will be activated on.

Conclusion
In this article, we have looked into features and comparison metrics of Elementor and Gutenberg. The choice on which one to use is purely dependent on you.
If you wish to build just a simple layout design for your website, then Gutenberg would be the appropriate choice. You can also extend the default Gutenberg blocks using various addons such as Spectra (previously known as Ultimate Addons for Gutenberg) and Stackable. Gutenberg is also expected to grow with time hence you should expect to see some more exiting features in place.
On the other hand, if you wish to create a complex layout with a seemingly easy to use builder, then Elementor would be a great choice.
However, should you have any questions in regards to either of these, please feel free to reach out in the comments section below.