WordPress Hosting is an integral aspect of every online WordPress website. Ensuring that you choose a hosting package that 's best tailored to your specific needs is critical to providing an easy, safe website to your customers. Simply put, the hosting service you pick, will also have a significant impact on the profits of your website. Hosting providers do offer a range of different services and once you do not know which plan you are going to use it becomes quite a confusing task.
You'll come across all sorts of different types while you are figuring out where your WordPress website to be hosted. Two major popular types of hosting are 'shared hosting' and 'managed hosting'. The distinction between shared hosting and managed hosting could be tough to grasp as a beginner in this industry as well the one which you really should select for your WordPress website.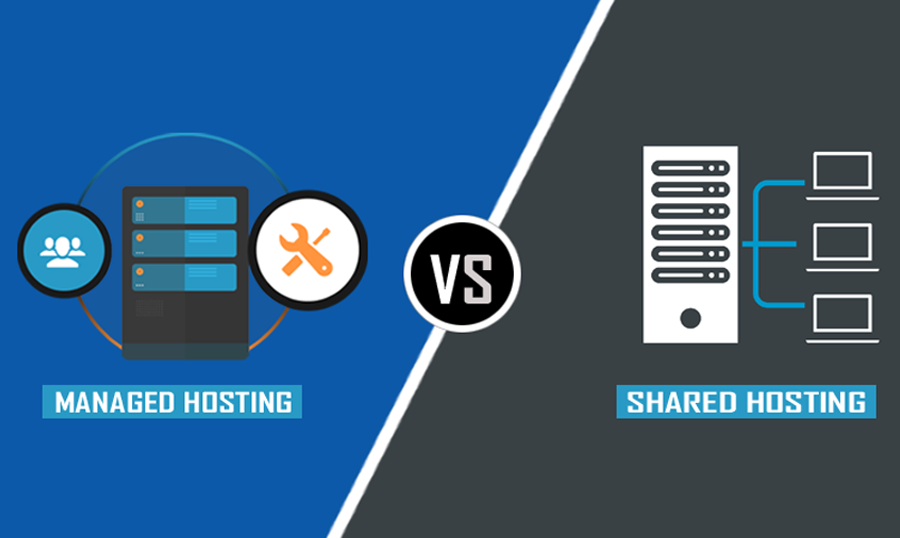 Once you decide to join the web industry as a beginner, the shared hosting offers the fundamental functionalities that you need at an reasonable cost.On the other hand, managed hosting moreover provides some advantages that can give rise to the levels of your site usage and account for any additional costs. The decision is thus not inherently well established for someone who is starting out thus bringing out the confusion.
In this post we shall walk you through and give you a conceptual overview of web hosting and the variations between regular shared hosting services and managed hosting services. Well for you who is starting out here are some quick questions which you need to ask yourself before jumping into any hosting plan. This will lay a simply layout of our article below:
What is shared and managed WordPress hosting?
What are the differences?
What are some of the benefits of managed WordPress hosting?
What are the benefits of shared hosting?
Who are the top shared and managed hosts?
What is Shared and Managed WordPress Hosting
Shared hosting is a web hosting service where the domain connects a variety of site resources with the help of a single web server which has other websites within it. And the biggest advantage of having such a hosting service is its affordability. Almost all hosting providers that have shared hosting services provide it at incredibly reasonable pricing which begins every month from $3.95 up to $9.95. Some hosts can provide shared hosting for free as well. Such kind of hosting plans are great for small sites.
On the other hand Managed WordPress Hosting is a type of hosting service which uses the most effective technology and optimizations to ensure that your website is both secure and fast thus highly reliable even to your visitors. You could primarily neglect all the technicalities that apply to your website hosting as a website owner.
Here are some of the technicalities involved with this kind of hosting:
WordPress performance is optimized to suit the hosting environment.
Applying the WordPress security rules.
WordPress updates are done automatically.
Ability to perform automatic backups and restorations.
Provision of support to members who use WordPress.
Ability to create staging sites to test changes.
Pluses and Minuses of Shared Hosting
Shared WordPress hosting can be a nice choice for you if you're starting out with a new website. Although it normally features less than managed hosting, a variety of primary advantages still remain, here are some:
There is increased bandwidth
Presence of larger amounts of server space
Also more administrative options within the platforms.
Lastly is affordability of course.
Even so there still are some drawbacks and just in case your budget may be a major concern at first, you may want to take these into consideration:
Even though the server space is large your own site may be limited in server space and performance as well. This is because other sites share the same space too.
You could also be limited to the types of software and functionalities you could install which can possibly reduce or hurt the expansion and growth of your website.
There is potential bleach of security due to the shared resources from many websites.
There are fewer or limited support options, as most basic plans do not include top tier support.
Pluses and Minuses of Managed WP Hosting
While comparably pricey, WordPress managed hosting provides many advantages. Some of them include:
Speed optimisation is enhanced by allowing advanced server caching. Thus your website will perform at the highest possible speed.
WordPress hosting provides auto-updates, ensuring better security. The host will perform a daily malware scan keeping off attacks such as hacks, malware and DDoS.
Most of the managed WordPress hosting providers offer automated regular backups and one can restore them whenever needed.
With a managed WordPress provider, you get a well familiarized support team with any WordPress issues.
Managed WordPress hosting is a great solution if you need your provider to do the heavy lifting of keeping your platform updated and secure. However it also brings along some drawbacks just like its counterpart above, though a bit different.
First it does not allow server customization, since it's built specifically to handle many technicalities.
Next it generally restricts the total amount of disk space that one can use.
Additionally one is limited to the number of websites that they can host on their account.
Highly priced due to the provision of many functionalities.
Best Shared Hosting Providers
Upon knowing the differences between the two hosting plans now you can easily pick your most favourable one for your site. Whether you are a beginner or expert in this area you would select your hosting service depending on the features it offers or your budget. Below we have recommended some of the companies to check out for shared hosting plans:
HostGator, like other top firms, is a proven 'High Street' hosting enterprise. For ten years they've been running their services well and most web owners have enjoyed their privileges. HostGator is also popular for shared hosting, and VPS plans are given if your site ever needs to be improved and upgraded.
HostGator is known for its good support which may cost a little bit more definitely. However, their durability and versatility increase the additional costs better than make-up. The pricing of HostGator shared hosting starts at $2.75 per month and comes with a 45-day money back guarantee.
Nice UI on the control panel with 1-click CMS installs
Unlimited domains and databases among other features
24/7 support by experts
Bluehost is one of the most popular web hosting providers for small firms, individual websites and bloggers. It is also one of the few hosting firms WordPress.org recommends. The shared server package of Bluehost is adequate to satisfy most customers' hosting needs. Bluehost does provide VPS and unique hosting services, just like Hostgator. Bluehost starts at $2.75 per month and comes with a free domain and a 30 days money back guarantee.
FREE website builder with 1,000s of templates
FREE CDN to accelerate your site's loading.
Unlimited disk space
SiteGround is one of the market 's largest shared providers of hosting services and it's endorsed by WordPress.org much the same as Bluehost. You should consider the sites hosted to be fast and stable with SiteGround because they use the new technology and strong data centres. They also offer static and free CDN storage plus running on SSD drives. Siteground starts at $3.95 per month.
Free SSL certificates with all of their plans.
Daily backups to keep your data safe.
Have unlimited email accounts.
24/7 support for solving related issues.
Best Managed WP Hosting Providers
As this plan of hosting provision is a supported service that covers all the technological issues related to how you run the WordPress website, companies have specialized in growing towards this objective.Some of the recommended managed hosting providers include:
Flywheel is one of the most common hosting providers operated for giving managed WordPress host plans and it is easy to understand why. They provide both frequent WordPress users and companies a great wide range of tools for various functionalities. Freelancers and designers will establish their customers' sites and then send them over to pay for their hosting on Flywheel. The platform prices start at $13 per month for the "Tiny" plan to around $24 per month for the "Agency" plan.
Here's what Flywheel has to offer in that respect:
Optimized dashboard
One-click staging sites
Daily backups
Hands-on security
No manual installations
WP Engine is a premium managed hosting service designed to offer a maximum experience for WordPress websites. It does give a couple of promises to its users such as great hosting speed, strong security, and finest customer service. In addition you will get daily backups, and
automatically updates your WP plugins.
Moreso, you'll get free site migration and daily backups, CDN (content delivery network) integration, a staging environment, built-in or third-party supported SSL certificate plus heaps more. WpEngine starts at $35 per month with a 60 day money back guarantee to its users.
They have specifically developed their plans to host heavy-duty websites for WordPress. They use Google Cloud and all the latest technology, such as the object cache, Nginx, PHP7, and Redis among others. This means that your website runs more faster and efficiently. At the moment Kinsta offers other great features like:
Security – Daily firewalls and security scans to keep your site safe
Daily & on request automated backups
Easy-to-use staging area
Data centers on different continents[CDNs].
Competitive pricing
Excellent customer support
Wrap UP
Many owners of websites who are starting off use the shared hosting service. This allows you to have your website live and accessible to visitors. Shared hosting is typically the ideal choice for small websites and the most economical hosting on the market.
Managed WordPress hosting, on the other hand , provides additional benefits. If you are a company owner or professional developer, hosting your WordPress site should certainly be taken into account by selecting a web hosting platform that is reliable. With its high speeds and improved security features, it enables WordPress sites to stand out in many functionalities compared to the shared hosting.
All in all with quite a variety of hosting providers available with their outlined customer reviews, it is hard to go wrong when selecting your ideal hosting plan. It's our hope that this article provides great insight to guide any beginner or expert when it comes to hosting services.