Abandoned Carts are a major concern for most Ecommerce store owners. Upon setting up an Ecommerce store and having it live, you expect that customers will identify products within your site, add them to cart and finalize the checkout process. However, this turns out not always to be the case.
Research by different entities show that the Global average cart abandonment rate to be close to 70%. As an example, based on data collected by Baymard Institute, the average abandonment rate was around 69.99% as seen here.
Within this guide, we look into what Abandoned Carts are as well as some of the reasons customers tend to abandon carts. We will also look into some of the measures that can be put in place to reduce this and how to recover abandoned carts.
Table Of Contents
What Are Abandoned Carts In WooCommerce
Calculating the Cart Abandonment Rate
Common Reasons People Abandon Their Carts
Measures to Reduce Abandoned Carts In WooCommerce
WooCommerce Abandoned Cart Recovery Plugins
What Are Abandoned Carts In WooCommerce
Abandoned carts are an outcome of customers visiting an online store, adding a product to cart but do not end up purchasing the product.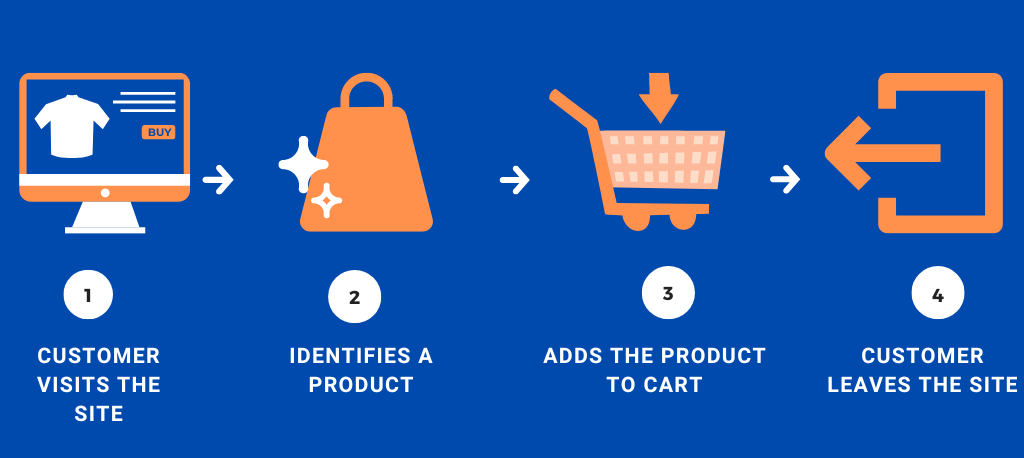 This can be quite frustrating for store merchants especially if the abandonment rate is high.
Wocommerce does not provide a direct approach to indicate the abandoned carts to store merchants or even provide a way to re-engage customers with abandoned carts. For such features, you will need to rely on third-party integrations that provide these features.
Calculating the Cart Abandonment Rate
The cart abandonment rate shows the percentage of customers interested in a product but leave without purchasing it. It is important to keep track of this metric over time so as to gauge the performance of your store.
The rate can be calculated by:
Divide the number of purchases completed by the number of shopping carts opened
Subtract the result from 1
Multiply the final result by 100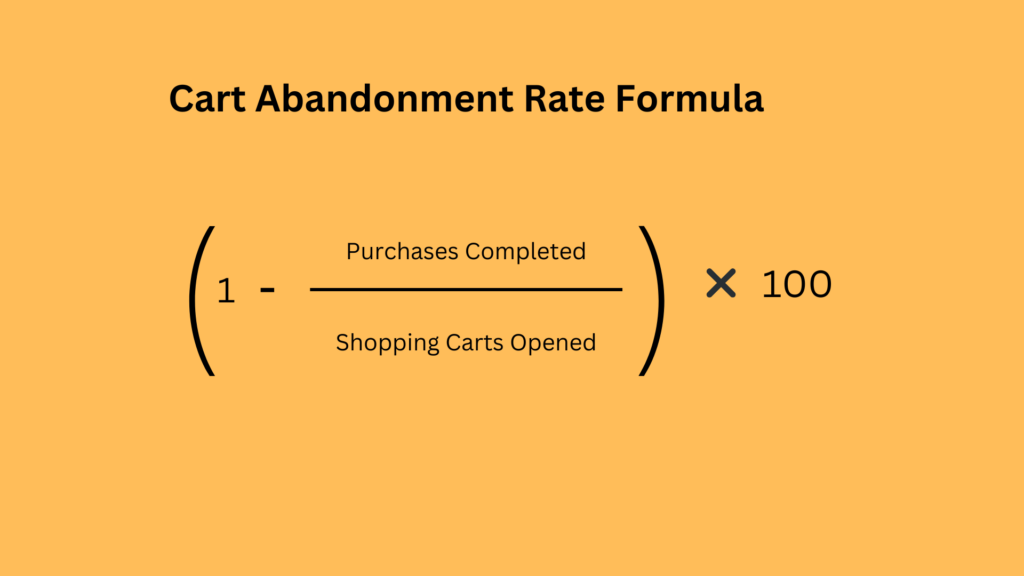 If for example in a certain period within your store you had 200 purchases completed and 600 shopping carts opened, the cart abandonment rate within this period would be considered to be 66.67%.
(1-(200/600)) * 100
Common Reasons People Abandon Their Carts
There are various reasons why people abandon their carts. Some of these include:
Overhead Expenses: These are expenses such as Shipping costs and taxes that customers may have come across during the shopping experience. These costs make the customer not to complete the purchase since they did not expect to incur them or were relatively quite high for them.
Lengthy or Complicated Checkouts: Checkout pages with many fields that may not be really necessary make them lengthy. This make customers find the checkout quite long and requiring much time to fill.
Account Creation Requirement: Requiring customers to create an account before they complete their purchase may create some friction with customers especially first time shoppers in your site. Some customers find this as requiring more time and effort.
The Customer was not ready to make a purchase: At times a customer may have just been browsing through the website but was not really intending to carry out a purchase.
Technical Errors: If a customer encountered an error during their checkout process, this may have as well caused them not to finalize their purchase.
Website Speed: A slow website is likely to lead to customer frustration during the shopping process making such customers not to proceed with their purchase.
Lack Of Payment Methods: The payment methods available in checkout may have not been convenient to the customer, or else their desired payment method was not available, hence resulting to the customer not completing their purchase.
Unsatisfactory Return Policy: If the return policy of a product is unfriendly, customers may opt not to proceed with their purchase.
Security Concerns: If customers do not trust that the website is secure enough to accept payments or else have payment security concerns, they will in most cases not carry out the purchase.
Measures to Reduce Abandoned Carts In WooCommerce
There are various strategies that can be used in reducing the abandoned carts within your online store. Some of these include:
Improve Website Performance and ensure there are no errors: A fast website leads to a better shopping experience compared to a slow website. Websites with no errors also instill confidence to customers as compared to websites with technical errors in them.
One way to ensure that there are no errors is regularly trying to go carry out a shopping test within the website.
Provide a variety of payment options: Incorporating a variety of payment options would also be of help in reducing abandoned carts. It is however important that you first add the major payment methods and then add payment methods that are applicable to a wider user base, guided by local preferences.
Flexible and Clear Return Policies: Return policies should be customer-friendly and easy to understand in order not to act as a barrier to potential customers.
Ensure that the site is secure: It is important that you incorporate various security mechanisms within your site such as enabling of SSL. You can also add trust statements or badges that state the website is secure.
Implement Guest Checkout: Guest checkout enables customers to carry out a purchase without having to create an account. This makes the purchase process much more fast.
Ensure Transparency in costs: Having some transparency of the costs involved especially shipping costs. If there are Shipping costs involved, these costs should be rendered upfront for example within the single product page. This would help in ensuring that there are no surprises when it comes to costs. You may also opt to offer free or discounted shipping based on location.
Exit-Intent Popups: This is an approach whereby you grab the customers' attention before they leave your store with a popup. Messages used within the popup should have some sense of humor and urgency. The message should also serve as a reassurance to the customer that they are making a great decision by purchasing a product from the store. This serves a great encouragement to customers in order to complete their purchase completion.
Recovering Abandoned Carts
Apart from the measures discussed above on how to reduce abandoned carts in your WooCommerce store, there are also a number of approaches that you can implement, with an aim to recover the abandoned carts. Some of these techniques include:
Sending Follow-up Emails
These are abandoned cart emails sent to customers who had added products to the cart but for one reason or another did not complete the purchase.
Abandoned cart emails have a high success rate in that customers who receive these emails are likely to carry out the purchase.
It is important that these emails are sent early enough and in different intervals. You can for example send the first email within one hour, the next within 24 hours and another email within 48 hours. Emails sent within the first hour of an abandoned cart are likely to have a higher conversion rate as compared to emails sent within 48 hours.
Retargeting ads
This is a strategy whereby you re-engage customers who have visited the site via paid ads personalized to a customers' shopping. These ads can for example be presented to the customers social media pages.
If for example a customer was shopping for a phone and had added it to cart, an ad of the same phone can be rendered within his social media pages.
Retargeting ads can be actualized by adding various tools such as Facebook pixel and Google RSLA to your store.
Enabling Push notifications
Push notifications can act as a helpful way to recapture customers who had abandoned cart. Usually these are real-time notifications.
These notifications can for example be enabled with the help of plugins such as WonderPush. Once these push notifications are enabled, clickable messages in this case abandoned cart reminder messages are sent to customers devices.
Customer Outreach
This is an approach whereby the store owner personally reaches out to customers who have abandoned their carts and see if there is anything that he/she can get to assist with.
If there was something that prevented the customer from completing their purchase, it would be possible to have it addressed at this point and hence the possibility of recovering the abandoned cart.
WooCommerce Abandoned Cart Recovery Plugins
There are several WordPress plugins that can help you reduce the cart abandonment rate as well as recover abandoned carts. Some of these plugins include:
YITH WooCommerce Recover Abandoned Cart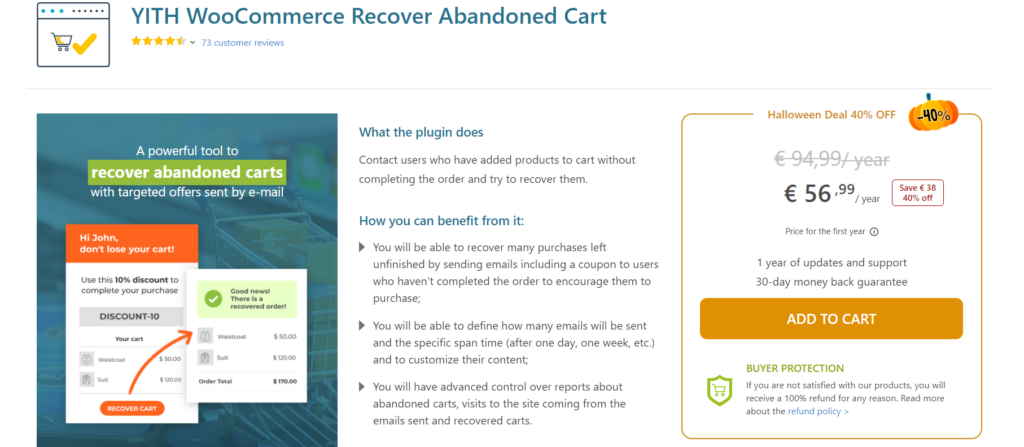 The YITH WooCommerce Recover Abandoned Cart plugin is a premium plugin that enables you to reach out to customers who are considered to have abandoned their carts.
There are a number of features provided by the plugin. Some of these include:
Provides the option to specify the timeline within which the cart is considered as abandoned
Includes an option to specify whether to recover carts for all users or only specific user roles
Enables you to send emails with coupons to users who have not completed their purchase
Enables recovery of abandoned carts for guest users
Provides a dashboard that enables you monitor abandoned carts as well as recovered carts
Retainful

Retainful is an Email marketing plugin that enables you to automate your email campaigns and recover lost carts. The plugin is available in both free and paid versions.
The plugin has a wide user-base and provides a number of features. Some of these features include:
Abandoned Cart Recovery Emails templates
Order follow-up emails
Email campaign builder
Exit Intent Popups
Captures emails for both guest and registered users at checkout
Real-time carts whereby you can see users carrying out purchases at the very moment
Reports on abandoned and recovered carts
Automatic sending of abandoned cart recovery emails
Abandoned Cart Lite for WooCommerce

The Abandoned Cart Lite for WooCommerce plugin provides the basic options for abandoned carts recovery.
Some of the features that the plugin provides include:
Abandoned Cart templates
Ability to create customized templates
Ability to send reminders after a cart is abandoned
Reports on the number of times a cart was abandoned and recovered
Ability to keep track of the percentages of recoveries done
Abandoned Cart Pro for WooCommerce

The Abandoned Cart Pro for WooCommerce plugin works in such a way that if a user clicks on the add to cart button, they are requested to fill in details such as the email or connect to their Facebook accounts. If the users then happen not to checkout, reminder messages are sent to them at set intervals.
This plugin extends the features of the Abandoned Cart Lite for WooCommerce plugin to bring in more cart abandonment features. Some of the features that the plugin provides include:
Automated cart notifications
Exit-Intent popups
Recovery incentives such as coupon and discount codes
Ability to delete abandoned carts after a set number of days
Capturing of IP addresses and visitor carts
Ability to check whether the cart is abandoned by a guest or logged-in user
Conclusion
Cart abandonment is a serious concern for Ecommerce store owners and requires attention from the store owner. Within this article, we have looked into why customers abandon their carts as well as what you can do to recover abandoned carts.
We do hope that this article is insightful in recapturing abandoned carts as well as reducing abandoned carts in your online store. Should you have any questions or comments, please feel free to utilize the comments section down below.