As an SEO enthusiast, you may actually have come across the term Domain Authority. Google takes into consideration quite a number of ranking factors in its algorithm to help in determining which site content's appear first in search engine result pages. It is important to note that Domain Authority is not a ranking factor that Google takes into consideration.
So, why is Domain Authority important whereas it is not a part of Googles' Algorithm? Within this article we will look into what Domain Authority really is as well as its relevance. We will also look into how you can improve on your websites' domain authority.
Table Of Contents
How to Check your websites' Domain Authority Score
Improving the Domain Authority Of Your Website
What Is Domain Authority
Domain Authority is basically a metric that website owners can utilize to predict how likely their website content is to appear in Search Engine Result pages, as compared to other websites in the particular niche or industry their website is in.
The Domain Authority metric was created by Moz. The Domain Authority score ranges from a 0 to 100. The lower the score, the lower the Domain Authority and vice versa.
Despite the fact that Domain Authority is not considered as a ranking factor, it is quite important for example when it comes into marketing and Brand creation. The higher the Domain Authority score, the better as this acts as a signal on how competitive your domain is as compared to your competitors. However, this does not necessarily mean that just because your Domain authority score is low or average, your website will never highly rank in Search Engine Result pages.
Moz uses different factors to determine your websites' Domain Authority Score such as the total number of links and linking root domains as stated here. This score is then what will be used to gauge and predict your websites' ranking strength.
How to Check your websites' Domain Authority Score
There are a number of tools that you can use to check the Domain Authority Score of a website. Some of these tools include:

Moz Link Explorer is a tool by Moz, who are the creators of the Domain Authority metric as previously outlined.
In order to utilize this tool to check a websites' Domain Authority score, you will need to fill in the URL whose score you intend to check, within the "Enter a URL" field and click on the "Get Free Link Data" button.
Below is a sample screenshot illustration of the output by the tool: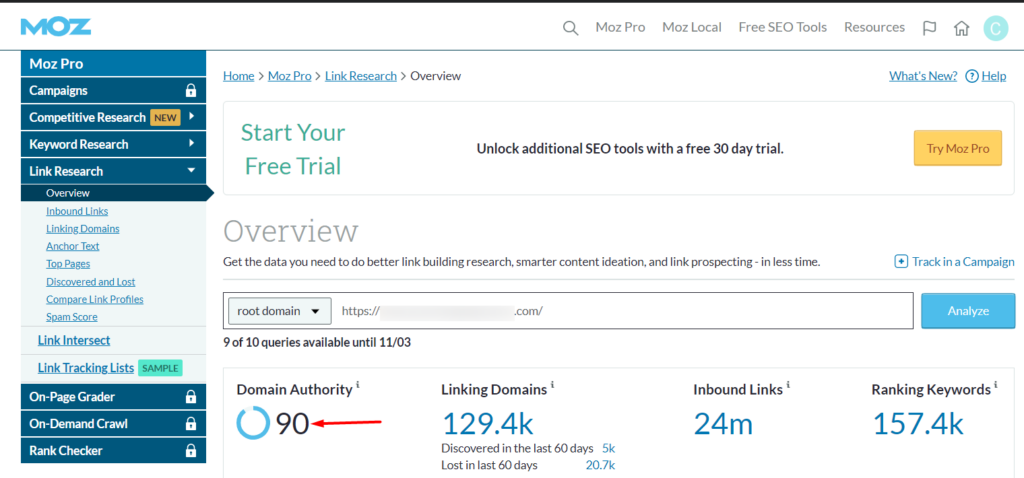 The test results also renders other data such as the linking domains, inbound links and ranking keywords.
2. Mozbar

Mozbar is a free Chrome extension still from the Moz team, that acts as an SEO toolbar. Once installed within the browser, it renders metrics when viewing a Website. Below is a sample screenshot on this: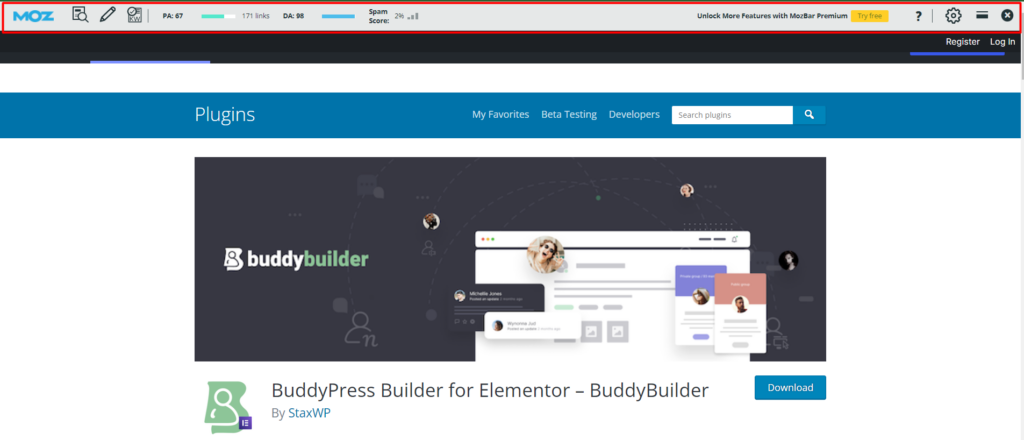 The Domain Authority score is signified by the initials DA. In the above screenshot, the Domain Authority Score of our test link is 98.
3. SEMrush

SEMrush is a common SEO tool that can also be utilized to measure the Domain Authority score.
In SEMrush the Domain Authority Score is based on a number of metrics such as the authority of referring domains, number of backlinks pointing to the site, inbound links, outbound links and many more.
In order to determine the authority score of a domain using the tool, you will need to carry out the following:
First Sign Up for an SEMrush account
Access the Backlink Analytics section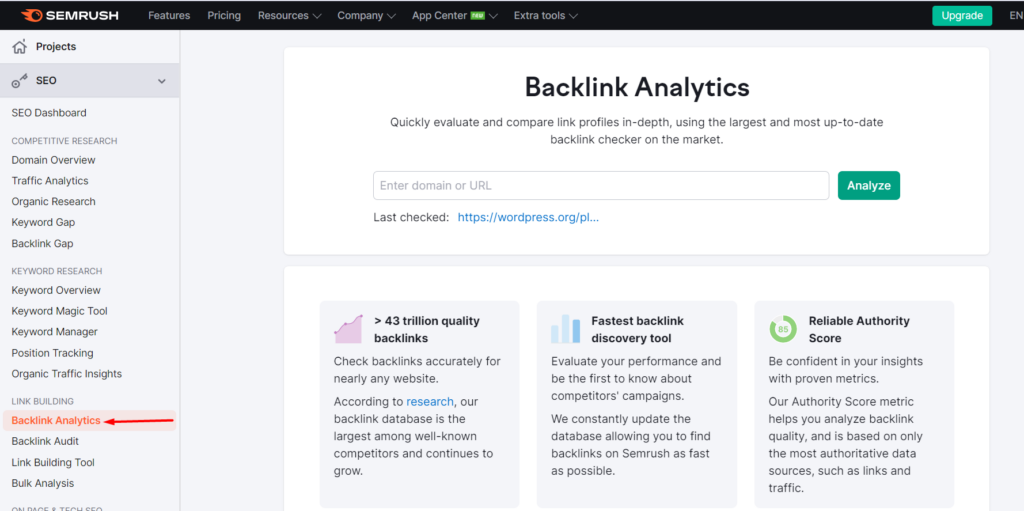 Fill in your URL within the URL field and click on the Analyze button
Once this is done, you should have a view of the Authority Score within the Overview tab.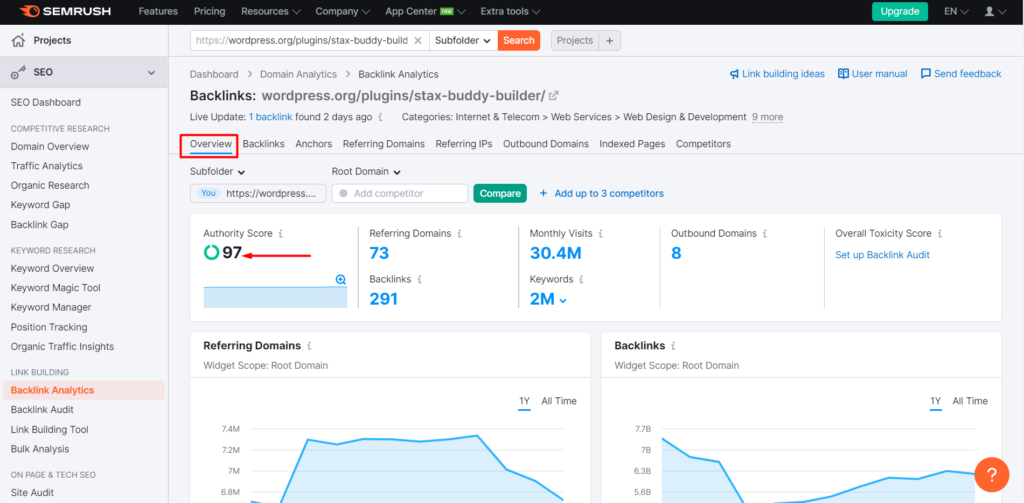 Domain Authority is a comparative value. It can be average, good or poor based on the domain you are comparing it with.
Improving the Domain Authority Of Your Website
Since we have now identified how you can check the Domain Authority score of your site, if your Domain Authority is poor, then there is room of improvement. Improving the Domain Authority Score of your website is a long term strategy. There is no specific approach to improve the score. The score improvement entails a combination of different strategies. Some of these strategies include:
Create Quality Content That Is Linkable
Content can be of many forms such as Ebooks, videos, podcasts, blog posts and many more. Creating quality content is quite fundamental in improving your ranking. One of your goals should actually be creating content that is helpful and engaging to end users.
If users find your content to be helpful, then they are are likely to share it more widely and this can actually lead to a higher number of backlinks from sites with higher authority. This will in turn help in contributing to a higher Domain Authority score.
It is hence important to ensure that your content is properly written, informative, engaging and relevant to your target audience.
Get More and High Quality Backlinks
Backlinks are quite essential in garnering high Domain Authority scores. You need to obtain Backlinks from websites with higher Domain Authority Scores.
It's however not just about the amount of backlinks that matters when it comes to Backlinks. Relevance and Quality of the Backlinks are also a key consideration. As an example, if your website niche is on food stuff, it would be inappropriate to have Backlinks from Sports websites.
The more the relevant and quality backlinks you get, the better it is for your website.
Carry Out a Site Audit and remove bad links
Having bad links within your website can lead to low Domain Authority scores of your website. These can for example be links from websites flagged as Spam or links from low quality websites.
In some cases, toxic links could also result to penalties from Google such as removal from search results. It is hence vital to regularly carry out a site audit and remove such links in order to avoid such eventualities.
Carrying out an audit of your site is however not that easy when done manually. You can hence use an SEO tool of your preference to carry out the audit. Backlink Audit is one such tool.
Once you are done with the audit, you can disavow them from Google Console or else ask Google to ignore them from here.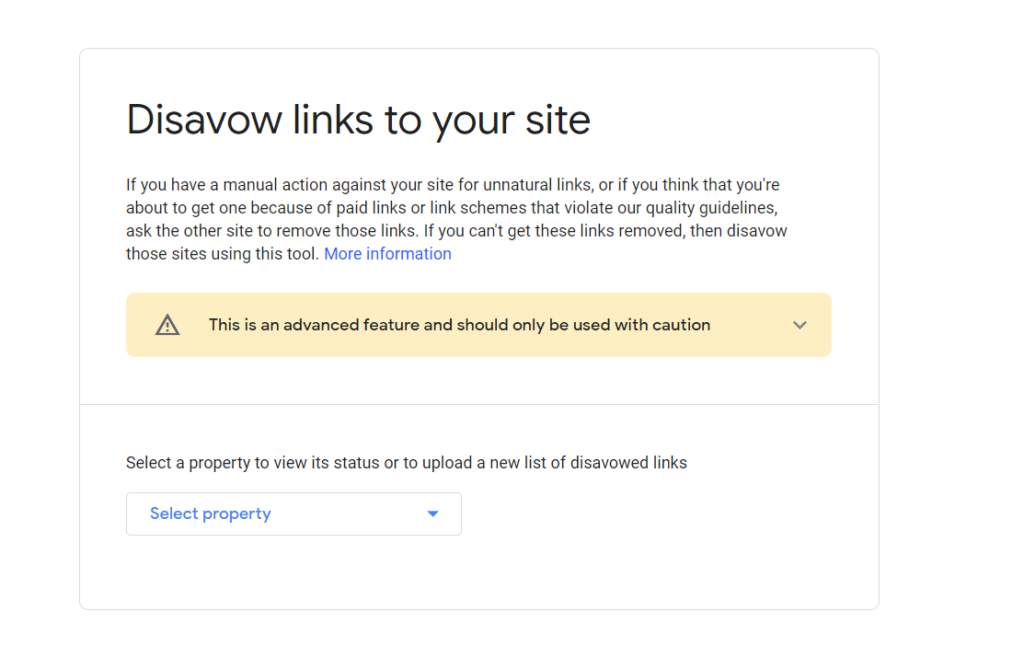 Make Your Website Mobile Friendly
Mobile device website traffic accounts for over 50% of the web traffic Worldwide. This would in turn mean that it is likely that approximately 50% of your website traffic would be from Mobile.
Based on the above consideration, it is hence important that you make your website mobile friendly. This in turn leads to a better user experience which then translates to a higher Domain Authority Score.
One of the ways to ensure that your website is mobile friendly is by making it responsive while designing it. A responsive website will always resize based on the device in use as well as the orientation. You can also use the Mobile-Friendly test tool by Google to determine if your site is mobile friendly.

Google follows a mobile first approach and hence if your site is not mobile friendly, Google is likely to identify this and this would in turn affect your rankings. This would also in turn negatively impact your Domain Authority Score.
Focus on your Page Load Speed
A slow loading website results to high bounce rates from site users. This results to a negative user experience which in turn would also lead to a low Domain Authority Score.
In order to test speed of your website, you can use a tool such as GTmetrix or PageSpeed Insights. This will also help in indicating which areas of your website need improvement.
It is also important to note that there are also several factors that influence your site speed such as images, usage of JS, CSS and HTML files as well as plugins in use. It is vital that you also invest in a quality and reliable hosting provider as this would as well highly contribute to your site speed.
A website with low page load speed scores can always be improved. Here is guide on how you can speed up your website.
Optimize Your On-Page SEO
On-Page SEO refers to optimization of your site content and code for higher site rankings and more site traffic. The better optimized your site content is, the higher the chances for higher rankings which is likely to translate to a greater Domain Authority score.
There are various on-page optimizations that you can carry out within your website. Some of these include:
Optimize meta titles and meta descriptions
Usage of well researched Keywords within your headings and content
Using optimized media content especially images
Implementing internal links to other pages
Update older post content
Increase Social Engagement
Social Media engagement can help in indirectly boosting the Domain Authority score of your website. This can for example be achieved by directing more traffic to your website by sharing your site content.
Promoting your site content in social media can also be used as a form of generating backlinks to your website, which would in turn positively impact the Domain Authority score.
It is important that you also regularly post content within the relevant social media sites and also drive engagement for example via challenges and questionnaires.
In order to increase sharing of content from your site, it is vital that you install a social sharing plugin or if you already have the sharing feature within your website, strategically position your share icons within your posts.
Conclusion
The Domain Authority score serves as a measure of how likely your site is to rank in Search Engine Result pages. It is important to regularly check your Domain Authority score in order to determine how well your site is fairing in comparison to the websites you are competing with.
We do hope that the insights shared within this guide get to assist you in checking your Domain Authority score as well as how to improve it. It is however worth noting that improving the Domain Authority score is a long-term project.
In case of any questions, comments or suggestions, please feel free to utilize the comments section down below.