Online training has gained more popularity over the years. Learners all over the world are in a position to access learning materials such as courses at any particular point in time. They are also in a position to undertake multiple courses at a go. This makes it easy to learn and advance your knowledge over time.
Learning Management Systems (LMS), are applications that help in distributing learning materials such as courses thereby creating a virtual experience to learners. Learners hence do not need to attend physical classes.
If you would like to share learning materials online, then having a learning website whereby you can have your content such as courses, quizzes and guides is one of the considerations that you should have in place.
Due to the popularity of online learning, there are now quite a number of WordPress plugins that can help in setting up your online learning platform. In this article, we will explore 10 different LMS plugins with a focus on their features and functionality as well as pricing.
Table Of Contents
WordPress LMS Plugins Checklist
WordPress LMS Plugins Checklist
When looking for an LMS plugin, there are various checklists or else basic features that you need to look out for. Some of these features include:
Course Management: A good LMS should allow website administrators to be in a position to create a course, edit it, as well as upload course material.

Student management: An LMS should provide a membership functionality for students and a feature to show how many students are enrolled in a course.

Course progress monitoring: This enables students know how far they are within a course and can also easily continue with the course if they had halted the learning temporarily.

Tests and Quizzes: Tests and Quizzes enable trainers to evaluate their learners.

Badges and Certificates: Certificates act as proof that a student has completed a specific course. Learners can also earn badges depending on the course setup.

Multiple Payment Gateway support: The LMS plugin should provide support for various payment gateways especially if you will be including course subscription fees. This enables students utilize their preferred payment gateways.

Content Dripping: This is a feature whereby you slowly release course content materials as users proceed with the course.

Assignments options: An assignment option helps in providing homeworks to students undertaking the course and also students are also in a position to submit back the assignments.
Top WordPress LMS Plugins
Below are some of the best WordPress LMS plugins that you can consider using for your website.
LearnDash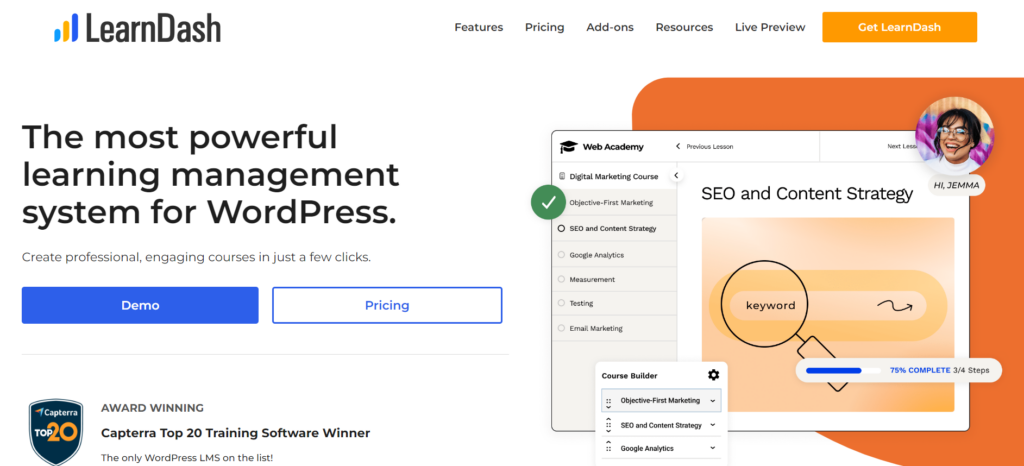 LearnDash is a popular WordPress LMS plugin that makes e-learning possible. The plugin has a high credibility and is used by universities such as the University of Florida. It is also used by other big names online such Yoast and Keap.
The plugin features a drag and drop builder that makes it quite easy for you to easily setup and customize your course. It also easily integrates with other WordPress plugins such as BuddyPress, Easy Digital Downloads, Mailchimp, bbPress, WooCommerce and many more.
If you do want to have an overview of the plugins' functionality, LearnDash provides two demos that you can check out. One is from a learners perspective and the other from a course creator perspective.
Key Features
Ability to create impressive and unlimited courses
Drip-feed lessons functionality
Automated Email notifications
Interactive leaderboard that displays student rankings based on performance in quizzes
Awards such as badges and certificates
Forum functionality where learners can discuss various topics
Detailed reporting on various aspects such as enrollment and progress, that enables you make informed decisions
Supports various pricing models such as subscriptions and one-time sales
Supports over 300+ payment gateways
Extensive user management functionality with features such as group creation, course access removal and learners addition to membership levels
Pricing
The WordPress plugin is priced as from $199 per year for a single website license.
MemberPress Courses

MemberPress is a WordPress membership plugin that can be used in course content creation with the help of the MemberPress Courses addon which is used in incorporating LMS functionality.
The membership functionalities are built-in and hence no need to integrate other membership plugins, as is the case in some LMS.
MemberPress incorporates a course builder that enables users to create and edit courses right from the WordPress block editor.
Key Features
Course content restriction that enables your easily manage premium courses
Availability of a single menu item with all course content
Certificate builder to enable you create certificates for your courses
Quiz creation
Course progress tracking
Drip content
Pricing
The MemberPress basic plan starts from $179.50 per year. You can check out a comparison of the packages here.
Lifter LMS

Lifter LMS is a common LMS plugin that provides amazing features to enable you create and sell online courses.
The plugin is available both as a free and premium plugin. It easily integrates with most WordPress themes and plugins and therefore has a great flexibility element.
Features of the plugin can also be extended with various LifterLMS addons and third-party tools.
There are also quite a number of websites using Lifter LMS. You can check out these websites from the showcase here.
Key Features
Integrated course builder to enable you to easily setup your courses
Drip Course content
Course protection and membership access configuration
Support for multimedia lessons
Course quizzes with quiz time limits
Supports group enrollment in courses
Certificates and badges
Supports multiple payment options
Provides support for forum integration which helps in enhancing discussions
Student dashboard to enhance proper organization and activity tracking
Pricing
You can try the premium plugin for $1 in a demo site by Lifter LMS for a period of 30 days. However, in order to use the premium plugin on your website, the bundle pricing starts at $149 per year.
Tutor LMS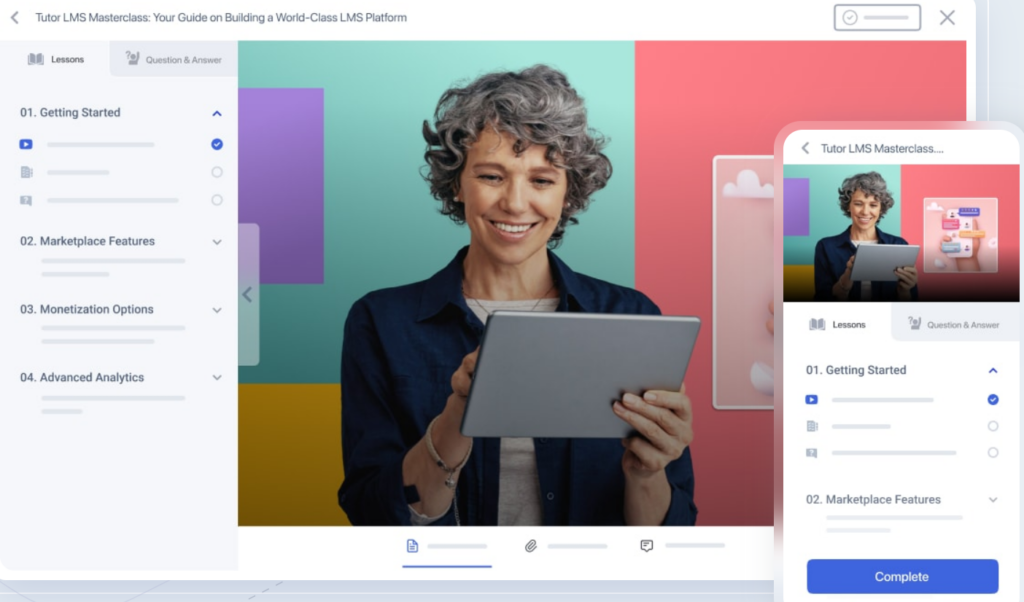 Tutor LMS is a powerful LMS plugin that enables you to setup, manage and sell courses within your WordPress site. The plugin is a fairly new addition launched in 2019, but has gained a lot of popularity over time.
It contains both a free and premium version, with the free version offering the core LMS functionalities.
Tutor LMS easily integrates with most popular page builders such as Oxygen, Elementor and Divi, thereby making it convenient for a variety of users.
Key Features
Personalized dashboard for learners and teachers that helps in easy management
Drag and drop course builder
Provides the ability to create unlimited quizzes with timers
Event calendar that enables students to track assignments
Provides a minimalistic design with great course detail and listing design
Integrated course rating system
Video lessons with support for a variety of video sources
Lesson Manager
Automated email notifications
Ecommerce functionalities with the help of the WooCommerce plugin
Pricing
The premium version is currently priced as from $99.50/Year and for a lifetime license the pricing begins at $249.50.
LearnPress

LearnPress is another common WordPress LMS plugin that is used in creating and selling courses. The plugin is available for free with the core functionalities of an LMS in place. To extend the features of the free plugin, you will need to purchase the LearnPress PRO Bundle.
The LearnPress plugin also comes highly recommended by WPML as the most preferable Learning Management Systems plugins for multilingual sites as seen here.
LearnPress also has a mobile app that can be used by both Android and iOS users. This enables you to convert your LearnPress powered website to a mobile app.
Key Features
Easy Course creation and management
Support for WooCommerce makes it possible to sell courses
Multiple addons available that provide extra features
Certificates builder
Paid Memberships pro integration
Content Drip functionality
Assignment feature with deadline submission
Random quizzes
Gradebook to track student progress and results
Allows multiple instructors
Pricing
The LearnPress WordPress LMS PRO Bundle is currently priced at $299.
Sensei

Sensei is an LMS plugin used to create and sell courses. It is built by the team at Automattic who are behind wordpress.com and plugins such as JetPack and WooCommerce.
The plugin is available both as a free plugin and premium plugin. The free version offers basic LMS features . It enables you to create courses and offer them freely. If you however wish to sell the courses, you will need to upgrade to the premium version.
Sensei also enables you to create courses directly from the WordPress editor and hence you don't really need to learn how to use a new course builder.
Key Features
Easy Lesson creation
Ability to add videos from different platforms such as Vimeo, Youtube and VideoPress
Properly integrates with most WordPress themes
Timed Quizzes
Paid Courses
Perfectly integrates with WooCommerce and various WooCommerce related plugins such as WooCommerce Subscriptions and WooCommerce Memberships
Provides the ability to schedule and drip lessons
Certificates
Makes it easy to organize students to groups and cohorts
Provides the ability to specify course accessibility periods
Pricing
A single license starts from $29.40 per year.
WP Courseware

WP Courseware is a premium LMS plugin that enables easy and fast course creation with the help of the integrated course builder. This enables you to create unlimited courses within a short timespan.
The plugin is one of the oldest plugins in our compilation here. With 10 years in the market, the plugin is widely used and is still actively maintained. The plugin is also trusted by some big names such as ChrisLema, Manage WP and ithemes.
WP Courseware does also provide you with an opportunity to setup a demo where you can check out the plugins' functionality prior to purchasing it. This can be done from the link here.
Key Features
Intuitive drag and drop course builder
Special pricing for course bundles
Course Gradebook that provides performance views
Retake limits a student can undergo in order to pass a certain grade
File upload functionality with an option to specify acceptable file types
Convenient student dashboard
Progress tracking of students
Custom certificate builder
Course styling within the customizer
Easy course import and export between websites using WP Courseware
Pricing
WP Courseware license is currently priced as from $129 /year.
Masteriyo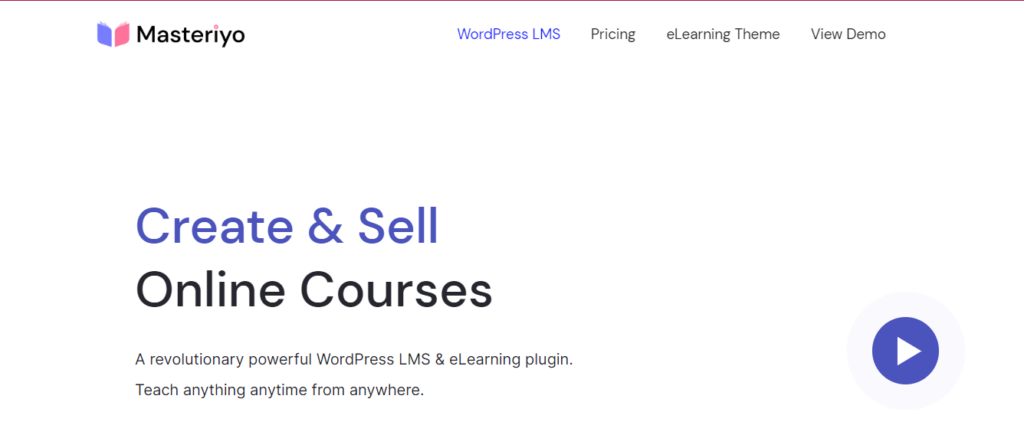 Masteriyo is an easy to use and powerful e-learning plugin that enables you to create and sell online courses.
The plugin is powered by React JS which makes it fast and smooth to use, especially when it comes to course building. This leads to a great user experience for both course builders and students.
Key Features
Setup wizard to enable users to easily setup Masteriyo into their WordPress site
Integrated drag and drop course builder
Easy course creation without the need to reload pages
Support for quiz creation with the help of the inbuilt quiz builder
Ability to create attractive certificates using the inbuilt certificate builder
Support for multiple course instructors
White Label support
Assignments option
Integrated ordering system hence there is no need to install extra plugins for this
Support for multiple common payment gateways such as Stripe and PayPal
Pricing
Masteriyo is available both as a free and premium plugin. The premium version pricing starts at $49.75/year for a single license.
MasterStudy LMS

MasterStudy LMS is an effective plugin used to easily build e-learning content for any e-learning business.
The plugin is available both as a free and a premium version. Though being a fairly new plugin compared to some of the plugins in this list, it integrates most of the essential features required for a good LMS plugin.
MasterStudy provides a number of live demos. Prior to purchasing the plugin, you can hence have a look into the provided demos to explore on the functionality of the plugin.
Key Features
Compatible with most page builders such as Wp Bakery, Divi Builder and Elementor
Integrated course builder both for the frontend and backend
Integrates with Paid Memberships and WooCommerce to add support for memberships and sale of courses
Student course progress tracking
Live streaming lessons which brings in more interaction between the learners and instructors in a live session
Gradebook feature that enables viewing of students results
Online testing support for quizzes and tests
Course bundles feature that aims at improving sales of your courses by selling bundled courses at a discounted price
Drip content feature that helps in organizing the flow of lesson content
Integrated course review and rating system
Pricing
The premium version of the plugin pricing starts at $59 per year for a single license.
Good LMS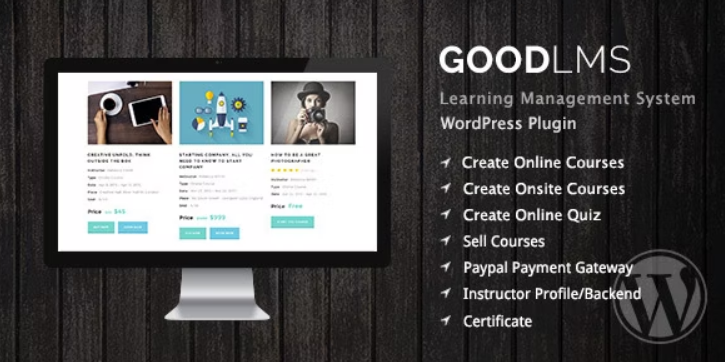 Good LMS is a pretty straight forward LMS plugin used in creating and selling courses. It is easy to use and manage, with observed similarities to WordPress blog posts creation.
The plugin is available at codecanyon.net and a number of demos are provided within its sales page. You can hence preview the demos to get a sense on what the plugin provides prior to purchasing it.
Key Features
Course creation and editing from the WordPress interface
Course certificates and badges within the student's backend
Ratings implementation for courses
Supports quiz creation and an option for quiz retakes
Provides support for commission rates to Instructors
Pricing
The Good LMS plugin is priced at one-time fee of $32. Upon purchase, you also get to enjoy 6 months of support extendable upon renewal.
Conclusion
If you are looking forward to starting a learning WordPress site, there are a number of LMS plugins available. A number of these are actually discussed within this article. The choice of a plugin mainly depends on the features that you intend to have in place within your website. There are also a number of factors to take into consideration such as pricing as well as the ultimate value provided by the plugins.
We do hope that this article serves as a guide in selecting a good LMS plugin for your website. Should you have any questions, suggestions or comments, please feel free to utilize the comments section below.