The default WordPress search is not quite robust in itself. It's limitation when it comes to search is a downside especially in heavy traffic websites where users are searching for certain pieces of content within a website. Some sample limitations of the WordPress search engine is that it does not support search of custom post types and taxonomies. This can actually be a huge limitation to your website visitors.
Implementing a great search feature within your website can significantly help in improving your site visitors experience. Most website visitors are likely to browse your site or search for information they require, within it. This is especially the case in Ecommerce websites where users try to narrow down to a specific product. The default WordPress search may not be quite helpful in such instances.
In order to resolve these issues, the need to incorporate a search plugin within your website arises. Within this article, we will look into the importance of using a search plugin as well as cover some of the best WordPress Search plugins that you can use within your website.
Table Of Contents
Importance of a WordPress Search Plugin
1 . Search WP
2. Relevanssi
3. Ivory Search
4. Swiftype
5. Ajax Search
7. FacetWp
8. YITH WooCommerce Ajax Search
9. WOOF – Products Filter for WooCommerce
10. Better Search
Importance of a WordPress Search Plugin
As discussed above, the default search in WordPress may just not be enough for your website. Some more demystified reasons on as to why you would consider using a WordPress search plugin include:
1. Search Speed
The default WordPress search is not known for quickly carrying out search queries and returning the search results. This is especially common in websites that contain huge amounts of content.
Using a search plugin in such websites helps in quickly executing the search queries and delivering the results to users.
2. Filters Implementation
Search Filters in a website help users to narrow down their search query to a close or exact match of the content that they are looking for, much more quicker.
Unfortunately in the WordPress search engine this functonality is not available which is why this forms as another reason why you would consider using a WordPress search plugin.
3. Search Accuracy and Relevance
One key essence of search is to provide users with the information that they are looking for. It is hence important to use a search system that is in a position to search all contents within your website and is accurate enough.
The search results need to also be relevant to the search terms provided during the search.
4. Search Semantics
Having a search engine that is in a position to determine the search intent and context of the search terms used also helps in improving the overall user experience in a website.
This is also important because people carry out searches in different languages and tones, and hence this helps in eliminating ambiguity in search.
5. Search Analytics
Although not present in all search plugins, some search plugins provide detailed search analytics data that contain a log of the search queries. This data can be helpful to the site owner as it provides a clear reflection on the search behaviour of your site visitors.
Best WordPress Search Plugins
There are quite a number of great search plugins available. Here we will outline ten WordPress search plugins with a fairly strong presence in the WordPress ecosystem and provide extra benefits from what is present in the default WordPress search engine.
The list includes both free and paid plugins.
Search WP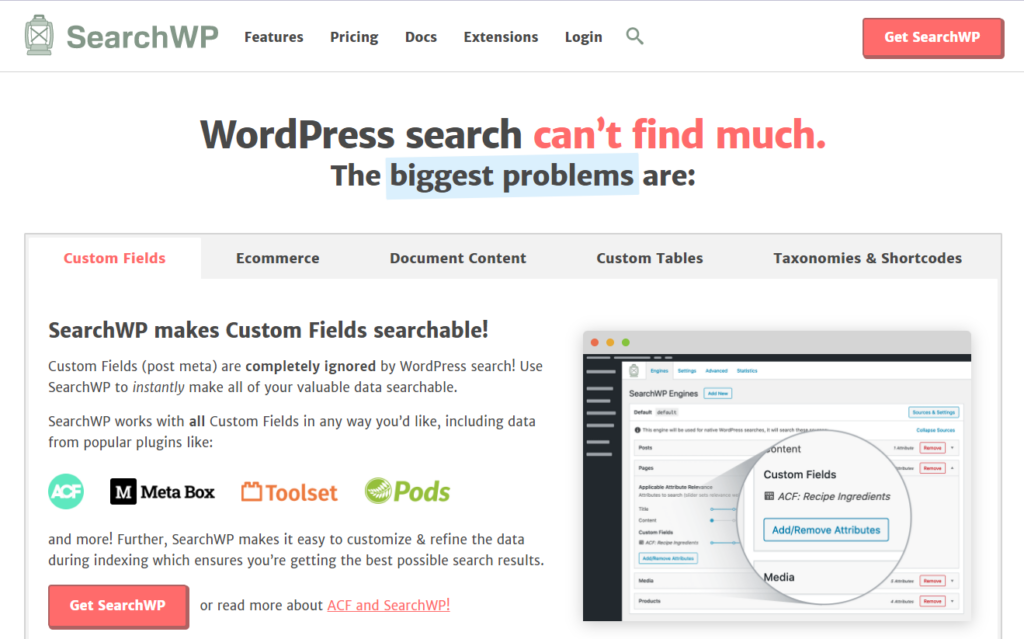 Search WP is a premium WordPress search plugin oftenly considered as one of the best search plugins available.
The plugin boasts for having over 30,000+ site installs.
Key Features
Search WP contains great features and control options making it capable of carrying out searches on all your database tables hence the plugin can literally search any stored data within your website database.
The plugin is also fully compatible with page builders such as Divi, Elementor, Beaver Builder, Oxygen Visual Site Builder and Avada Website Builder. In addition, the plugin also fully integrates with other plugins such as WooCommerce, Easy Digital Downloads, BigCommerce and many more.
It is also well documented, making it easy for users to fully utilize the plugin features and developers to integrate it within their products.
The plugin also contains a number of extensions that you can use to expound your search.
Pricing
In terms of pricing, the plugin is priced under three tiers with the cheapest starting from $99/year.
| | | |
| --- | --- | --- |
| Standard | Pro | Agency |
| $99/year | $199/year | $399/year |
Relevanssi

Relevanssi is also a popular WordPress plugin that gives you much more control over the search implementation within your website by allowing you to set it up the way wish you to implement the search.
The plugin is available in both as a free plugin in the WordPress repository, as well as a premium plugin.
Key Features
Some of the main features that the plugin provides include:
Ability to run searches across sites in a multisite
Indexing and Searching PDF content
Taxonomy term searches
User Profile Searches
Custom Field Searches
Pricing
As mentioned earlier, the plugin is available freely in the WordPress repository . As for the premium plugin, the pricing is as follows:
Ivory Search

The Ivory Search Plugin is a plugin that enables you to create custom search forms used in enhancing the default WordPress search and also carry out searches on different types of content.
Ivory search plugin is a freemium plugin.
Key Features
Enables you to create unlimited search forms
Multisite search support
AJAX search support
Search Analytics
Easily integrates with WooCommerce, Weglot, Polylang, bbPress and WPML.
Enables the exclusion of certain contents from the search
Pricing
The Premium plugin version has different plans. These are outlined as follows:
| | |
| --- | --- |
| Pro | Pro Plus |
| Starts from $19.99/year | Starts from $49.99/year |
You can also have one-time payments carried out as outlined below:
| | |
| --- | --- |
| Pro | Pro Plus |
| Starts from $99 | Starts From $189.99 |
Swiftype Search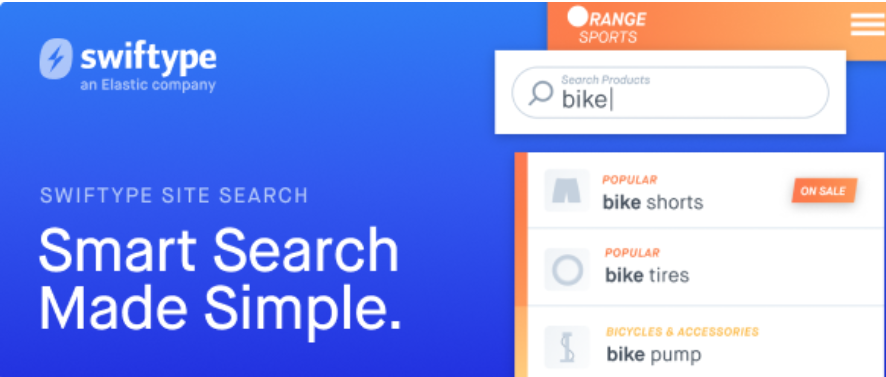 The Swiftype Site Search WordPress plugin is a search plugin that replaces the default WordPress search to provide a much more better search experience.
Key Features
Custom Search Result Ranking that allows you to feature the most relevant content in real time
Spellchecks to ensure that site visitors are not hindered from getting search results because of minor spelling issues
Allows filtering in search, of all post attributes
Autocomplete
Search Analytics provision
However, in order to fully enjoy the benefits of the plugin, you will need to sign Up for an account and purchase a plan.
Pricing
| | | |
| --- | --- | --- |
| Standard | Pro | Premium |
| $79/Mo | $199/Mo | Custom Pricing |
Ajax Search
The AJAX search plugin replace the default WordPress search with a live search experience, whereby you do not need to refresh your page to see the search results.
The AJAX Search plugin is available both as free and premium:
Key Features
Fully powered AJAX search
Support for custom post types in search
Images in Search Results
Image Caching for quicker response times
Support for custom fields in search
Search Statistics
Multisite Support
Search Filters support
Flexible Search Logic
Premium Pricing
The AJAX Search Pro is available at codecanyon.net for $36.
JetPack Search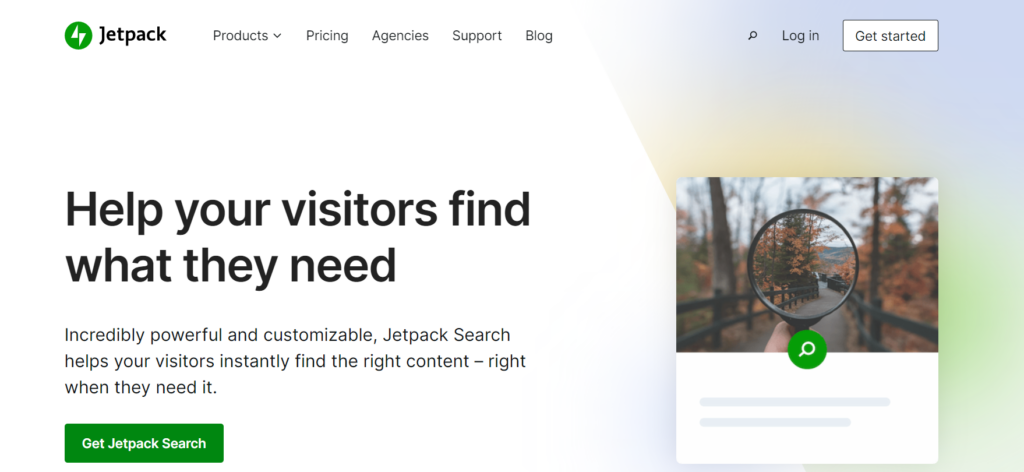 JetPack Search is a premium search product that replaces the built-in search functionality by WordPress with a performance friendly and accurate search.
The product is a paid upgrade from the JetPack plugin by the Automatic team.
Key Features
Real-time indexing whereby content is indexed immediately upon carrying out changes
Instant Search and Filter Implementation with no page reload
Prioritized Results based on your site statistics
Spelling corrections on search terms used
Live search suggestions
Highlighted search terms in post content and comments
All languages support and Languages Analysis support for 29 languages
Pricing
JetPack Search is priced based on the number of records that you have added for search. Records are content within your site such as posts, pages, products, custom post type contents and any other content that you want to make searchable.
You can use the JetPack Search Price calculator provided here to determine the total price based on your records.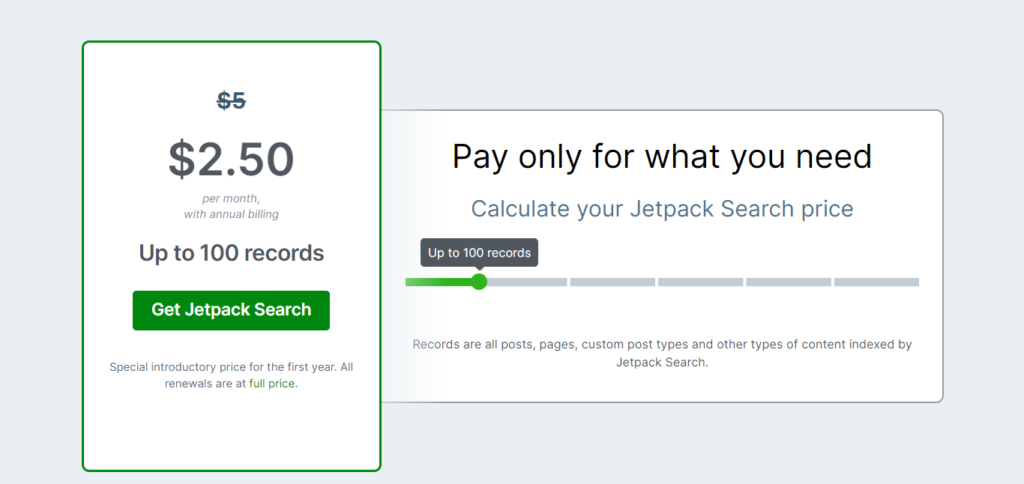 FacetWP

FacetWP integrates Faceted search / filtering to your website. This is especially useful in Ecommerce stores and directory sites.
The plugin offers flexibility in that you can create custom search Facets applicable to your site model and use them within your website.
FacetWP can also be used alongside other search plugins such as Search Wp to enhance the overall search functionality.
Key Features
Facets can be created to use your existing content/data
Seemingly fast and doesn't require page refreshes to render search results
Support For Multiple Facet Types
Built-in support for some of the most popular plugins and themes listed here
Developer Friendly, hence ease in customization
Pricing
FacetWP offers two pricing plans (Basic and Professional) with the man differences being that the professional plan supports user filtering and can be used by up to 20 websites unlike the Basic plan that can only be used by up to 3 websites.
| | |
| --- | --- |
| Basic | Professional |
| $99/year | $249/year |
YITH WooCommerce Ajax Search

YITH WooCommerce AJAX Search plugin is a search plugin meant for websites using WooCommerce.
The plugin integrates a powerful search engine that enables site visitors locate products much more quicker.
This plugin is available both in a free and paid version.
Key Features
Provides an option to customize the WooCommerce search form
Integrates an option to set a limit on the maximum number of WooCommerce results returned
Enables search for product content, excerpts, categories and SKU
Display of thumbnails in WooCommerce search results
Display of various badges such as the "Featured" and "Sale" badge in search results
Price display is search suggestions
Enables search by vendor if the YITH WooCommerce Multi Vendor plugin is installed
Pricing
The premium plugin pricing starts at $69.99 per year.
WOOF – Products Filter for WooCommerce

WOOF – Products Filter for WooCommerce is a powerful plugin that extends the WooCommerce plugin search functionality.
The plugin is available both as a free version and a paid version.
Key Features
AJAX product Search
Ability to search products by SKU, price and text content
Price filter and range slider
Enables you to carry out instant searches with no AJAX or page refresh requirements
Infinite scroll support
Color and Image Filter
Recount of Dynamic Products
Step by Step Products Filter
Products Messenger functionality for logged in users
Ease of use and ability to use its Shortcode within any part of your website.
Pricing
The premium plugin version is priced at $39.
Better Search

Better Search plugin substitutes the default WordPress search with a more powerful search functionality.
The plugin allows you to search through not just posts and pages but also custom post types. It also enables you to customize the output.
Key Features
Easy integration to your site without the need of custom search templates
Ability to customize a list of stop words that will be filtered out in search queries
Relevance Based Searching
Supports WordPress caching plugins such as WP-Super-Cache and W3 Total Cache
Translation Ready
Ease in customization, for proper integration to your blog template
Pricing
Better Search is a free plugin available in the WordPress repository.
Conclusion
Incorporating a good search plugin to satisfy your website needs is important especially if website/business growth is anything to go by for you. The better the search experience, the more the discoverability of your content which may eventually lead to more user engagement and higher conversion rates.
The above list of plugins can be of help to your site users by promoting user satisfaction when it comes to search. Premium or paid plugins will tend to provide much better features compared to the free plugins.
We hope that this article will be of help to you in selecting a good search plugin for your website. For any questions or suggestions, feel free to leave a comment below.