In WordPress, there is no standard or intrinsic feature that enables users to add login pages with social platforms. Being a site owner, social login is quite key in today's web environment. One should still be searching for means of preventing complexity with the user experience. It's essential to offer the best user experience, most necessarily if you run a website with membership or eCommerce functionalities. If the progress of your site relies largely on user registration provided by plugins like WooCommerce and BuddyPress, it is important to make use of social authentication to provide better user experience on your registration, login and checkout pages, among other things.
Social Login can indeed be good for providing user registration / login or membership features on websites. It enables users to quickly sign up to your official site using their favorite social media network like a Facebook, Google or Twitter account instead of filling out a long registration form. You can provide a quick login to your website, as your user won't have to register a new account, wait for it to be approved, and go through the manual login process. This manual method results in websites asking you to confirm your email or provide more information to register a new account, which is quite a turn off to many users.
Social login comes as a simple alternative to other ways of logging in, such as email registration or forms, and makes users much more likely to go through the signup process. Since the default WordPress doesn't include this login functionality, site owners would require a WordPress plugin to let their users log in using this method. In this post we have handpicked a list of our favorite social login plugins that can seamlessly add this feature to your site.
Table Of Contents
Why and When To Use Social Login
For most WP beginners and pros alike you could be wondering why social login is really essential to your store or membership site and here is a quick checklist with the answers.
Improves SignUp rates on your site:- From recent findings 85% of web users do hate creating a new account on websites. By using other social networks this number can be reduced.
Diminishes Password Fatigue:- Loss of passwords and forgetfulness is eliminated in this case. Your users won't have to remember yet another username-password combination.
Spammy of Fake data submission is eliminated: Most users who do not want to register on a site but its required for them to do so will most likely use fake emails and names with the manual method. Fortunately, with social login this is not the case.
With these three strong points you do know why you would need to use this social login in your example.com website. But still when should you use it? Everytime, Sometimes? Some instances that you can use it are:
When only logged in users can comment but without the hustle of registering a new account similar to how Disqus does it.
When there is forum participation by making it easy to log in with Facebook, Twitter, Google+ or LinkedIn.
When offering bonus content to logged-in users without having to fill in a lengthy registration form.
Gather relevant social information when users register with one of the social login providers.
Best WordPress Social Login Plugins
This is one of the most popular Social Login plugins with over 200,000 downloads, which you can get for free. This plugin can be used to allow users to login using a variety of social accounts including Facebook, Twitter, and Google which are the most popular social login options. 


On the WordPress profile page, users can easily link or unlink social accounts with a single click of course. This is because social accounts are tied to a WordPress user account so every account can be accessed with and without social accounts. With the pro version of the plugin here are some of the additional features you get:
WooCommerce compatibility
Pro providers: LinkedIn, Amazon, WordPress.com, Yahoo, PayPal, Disqus, Apple e.t.c.
Set whether email and username should be asked on registration at each provider
Choose from icons or wide buttons.
Several login layouts.
Once you have the plugin installed, the social login feature will simply integrate itself with your existing WordPress Login and registration form. 
OrangeMini WP Social Login is a highly rated WordPress plugin to enable social media authentication login feature on your website. Not only does the plugin come with social login but also has social sharing and social comments using social websites or apps like Google, Facebook, Twitter, Vkontakte, LinkedIn, Windows Live, Instagram among others.It has a functionality for icon customizations where users can customize shape, theme, space & size of social login icons. With the premium version you can have it integrated with WooCommerce, BuddyPress, BuddyBoss, Ultimate Membership and MemberPress social login feature. 

Additionally you can add an autofill feature for login credentials. Lastly it brings the single sign on capability in your website. Single Sign-On using Social Login creates a single authentication system for multiple web properties allowing users to navigate websites with a single account.
This is a free WordPress plugin to allow your users to login to your website using any of their favourite social profiles. This essentially eliminates the need to fill out registration forms and remember usernames and passwords. Currently it provides support to the following social sites/apps i.e, Facebook, Google, Twitter, Windows Live, Yahoo!, LinkedIn, Reddit, Disqus, Tumblr, Stackoverflow, GitHub, Dribbble, Instagram among others.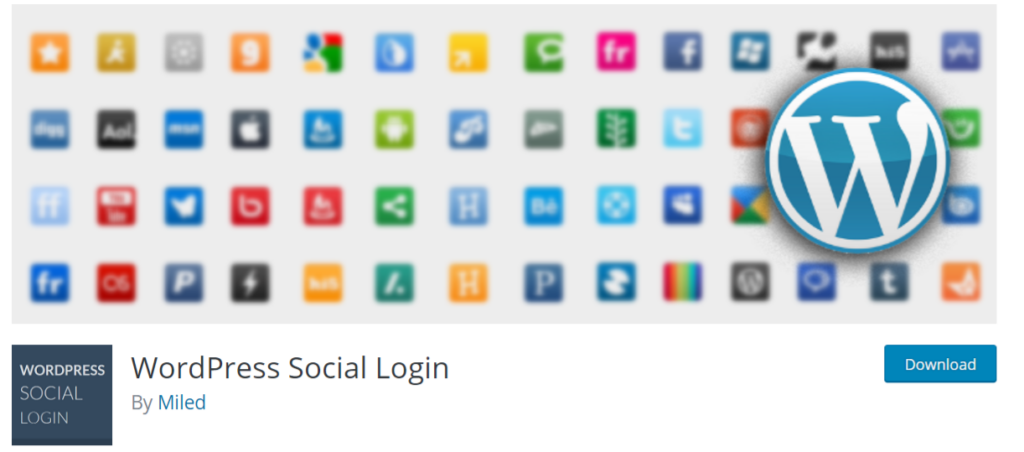 The plugin also allows you to import users' contact list from Google Gmail, Facebook, Windows Live and LinkedIn. The plugin gives its users absolute control over your site users access. The plugin uses a widget also which is simple and responsive within any site and fully customizable as well. Its popularity has grown over the years with over 60k+ installations and high review ratings as well. The plugin is completely free with no premium upgrade whatsoever.
Moving on is the Woo social login, WooCommerce as an e-commerce platform for WordPress is basically based on account creation processes. Inclusion of a social login mechanism would ease a lot of the process the customer goes through while making a purchase or while registering onto a site.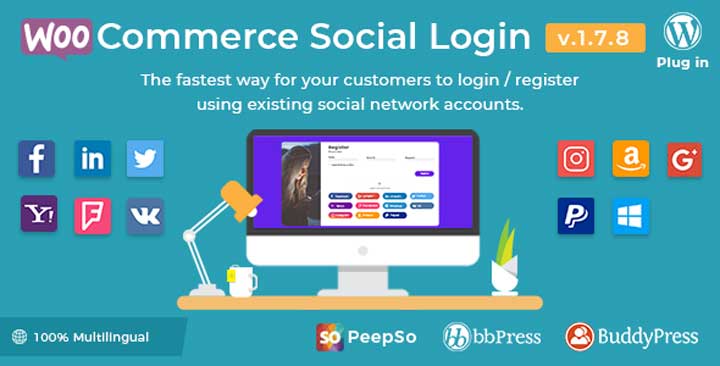 This simplifies the whole process for your customers and enables you to improve your return figures. You should use shortcodes provided by the plugin to insert the social login icons on your website. You will directly transfer newly created account data to your email after a user opens an account.
The extension allows users to login and checkout with social networks such as Facebook, Twitter, Google, Yahoo, LinkedIn, Foursquare, Windows Live, VKontakte (VK.com), PayPal, Amazon, LINE and login with Email.New customer accounts that are created with social login will automatically be linked to the appropriate networks. Existing Socials will also be able to connect their accounts to social networks when logging in or via the "My Account" page. Additionally one can even invite logged in users to link their accounts after checkout for faster purchase in the future. Simply enable Social login buttons on the Thank You page.
The plugin is however not free and it is quite popular due to its diverse functionalities. One can get it from codecanyon site at an extra $39. Other plugins that it is compatible with include PeepSo, bbPress, BuddyPress, Wp Rocket, and Better WordPress Minify.
For users who want a free plugin with the ability to upgrade in future you would want to try the AccessPress Social Login Lite. You can choose the default Facebook, Twitter and/or Google login option in the free plan and you can then choose a standard template [amongst  5 beautiful designs for free plan] for your login button styling to match your site's design.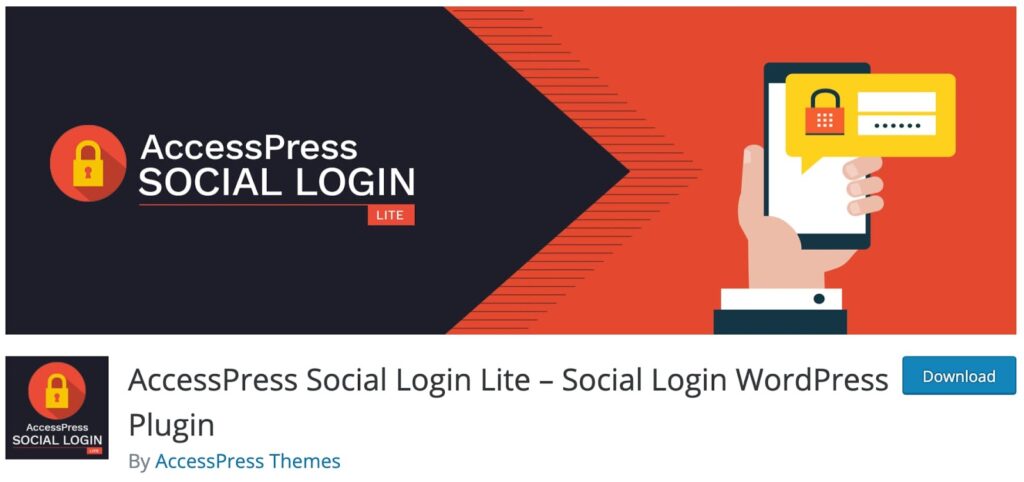 As the site admin, one can easily configure which social accounts to enable/disable for login, which areas of the website social login should be displayed (login, registration, comments). Within the premium plan you can have the following features:
Login with the most popular 12 social media.
Configure each social account by setting up a few authorization details.
Option to choose from 30 beautifully designed buttons/icons
Configure the order of the buttons
Use shortcode anywhere in the post/page to display social login.
Use a widget to display social login.
Enable / disable social login (completely).
One click registration/login
 Works with Woocommerce and BuddyPress.
Wrap Up
Social login is a user experience challenge that should be embraced by many new sites in line with the desires of visitors. The plugins have a simple setup and are easy to use to incorporate authentic logins to numerous social networking sites. So you can try one of them for free or paid if you'd like to add a social login option on your WordPress website. Do not hesitate to leave a comment below on your experience using one of the plugins you listed here.