Overview
These are settings provided by the theme within the individual edit section of posts and pages and can be viewed by clicking on the "Stax" icon on the top right of a page or post.

These options determine the layout of your individual posts and pages, and can be used to override the global post settings.
The contents of these options are different in both posts and pages. Within this guide we will explore the different options within both posts and pages.
Stax Options in Pages
Once you click on the "Stax" icon within your page, you will have a view of the available option within your page, which is the "Media Panel".
Below is a sample display while using the default Gutenberg editor: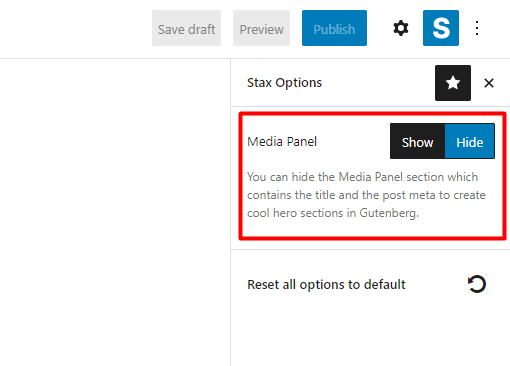 When the media panel is turned on, the page title and other meta available within the page are displayed. If turned off on the other hand, the post title and other available meta are not rendered.
The "Reset all Options to default" setting within the options restores the default Stax Options settings.
Stax Options in Posts
Once the "Stax" option is enabled, a couple of settings are available.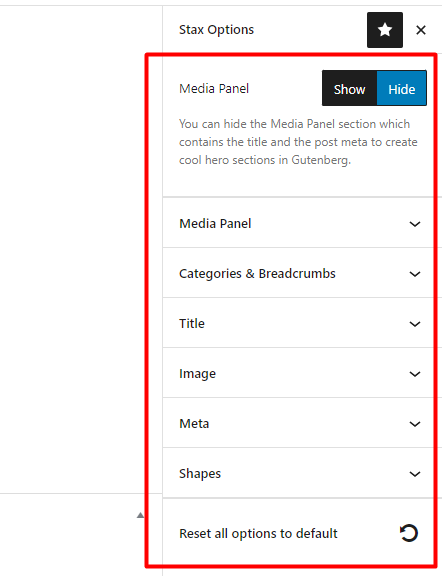 The settings here include:
Media Panel
Categories & Breadcrumbs
Title
Image / Gallery / Audio / Video: The option rendered depends on the post format of the post
Meta
Shapes
These settings provide similar functionality to the Global settings under the Appearance > Customize > Single Post > General section as discussed here. However, the Stax Options within posts are now applied to the individual post and override the Global settings.
Within the options is also an option "Reset all options to default" that resets all configured Stax options to the default settings.